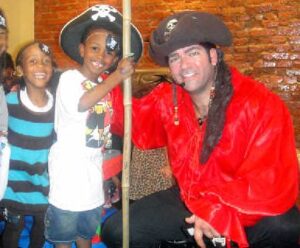 My name is Marc Schack and I am 43 years old. I have been entertaining and making children smile for over 27 years. I started my career in 1992 at a place called "Once Upon A Birthday." I was 16 at that time. At Once Upon a Birthday I would dress up as a pirate and perform magic and tell stories to children of all ages. After three years the company moved away and I stayed, thus Pirate Magic was born!
In 1997 I started my teaching career helping Autistic and Downs Syndrome children learn valuable life skills.   In 2017 I switched to helping students with Emotional Disabilities and am currently working on my 22nd year for MCPS. I also worked in a daycare with school-age children (K-5) from 1992-2006.
In 2007 I received my BS in Child Psychology from the University of Maryland (Go Terps)! This degree allows me to deliver a magical performance other entertainers can only dream of! I use my skills to fully engage the children in a fantasy adventure like no other.
The greatest thing about my show, other than super happy children, is that I will teach the children the importance of using manners ( the key to all the magic). I do this in such a way that the kids do not even realize they are being taught. When my show is over, I guarantee the children will be saying please and thank you all the time. 
For 20 plus years I have been entertaining and educating children. I use those Twenty Years of knowledge and apply it to my routine, thus your children and guests are guaranteed to be blown away by my performance. I love what I do and it will show!
Most important I value you and your family! I will treat you with the utmost courtesy and respect!!
If you are looking for top-quality entertainment for kids of all ages than I am the entertainer for you. I promise that all your children and their guests will be happy, entertained and have the time of their lives or you don't pay! I encourage you to ask other performers if they can make this promise. If they hesitate, even for a second, you know who to call!
Since I might be meeting your family, please feel free to meet mine (see below) from left to right (Dad, Sister, Brother, Me, Grandma and Mom)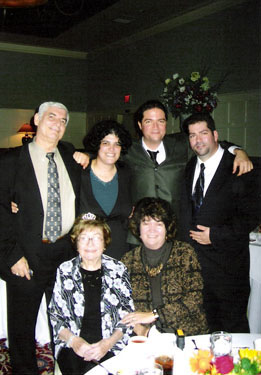 I love you, family!!
Call Marc Schack aka Captain Silly Bones 240-401-7414